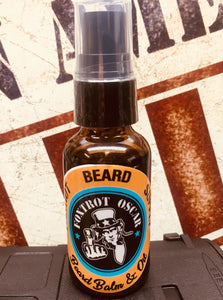 Foxtrot Oscar, Uncle Sam personally approved this product to kick the ass if anything that gets in your way.  So when life gets you down shoot the Uncle Sam Salute to anyone who deserves it. 
Available in 1/2, 1, and 2 Oz bottles 
Ingredients: jojoba oil, argan oil, sweet almond, fractionated coconut oil, and essential oils.  May or may not contain a drop of pig blood, liberal tears and melted snow flakes.
 Orange, frankensense, and black pepper round off this product in fine fashion.