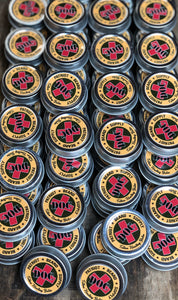 DOC is our exclusive tattoo aftercare balm.  100% all natural blend of Shea butter, beeswax, argan, jojoba, sweet almond and coconut oil.  We fortified it with lavender, tea tree, and frankincense to aid in the healing process.  
DOC goes on very smooth and melts quickly into the skin.  
Scrape out small amount with back of thumb nail and apply thin layer 2-3 times daily to clean, dry tattoo. 
Available in 1/2 Oz and 2 oz tins.